Lavender & Bergamot Natural Deodorant
Regular price

$16.00

Sale price

$15.20
Lavender & Bergamot: Earthy floral with bold notes of lavender and warm sweet citrusy Bergamot. Our top seller and a great unisex scent. 

A natural deodorant that actually works! Enhanced with magnesium and probiotics, this amazing deodorant can keep you fresh, dry and odour free for up to 12 hours.

Aluminium & paraben free
Made from natural ingredients
Enriched with magnesium & probiotics
Effectively neutralises body odour
Lightens armpit skin 

Easy to use liquid roll-on formula

A bottle lasts up to 3 months

Vegan & cruelty free
Directions: Shake well before use. Apply directly to clean and dry skin. Avoid broken skin. 

Ingredients: Aloe Vera Leaf Juice, Witch Hazel Extract, Sodium Bicarbonate, Magnesium Hydroxide, Arrowroot Powder, Lactobacillus Ferment, Glycerine, Xanthan Gum, Glyceryl Caprylate, Sodium Caproyl/Lauroyl Lactylate/Triethyl Citrate/Salvia Officinalis (Sage) Oil, Citric Acid, Lavender Essential Oil, Bergamot Essential Oil.

Size: 60ml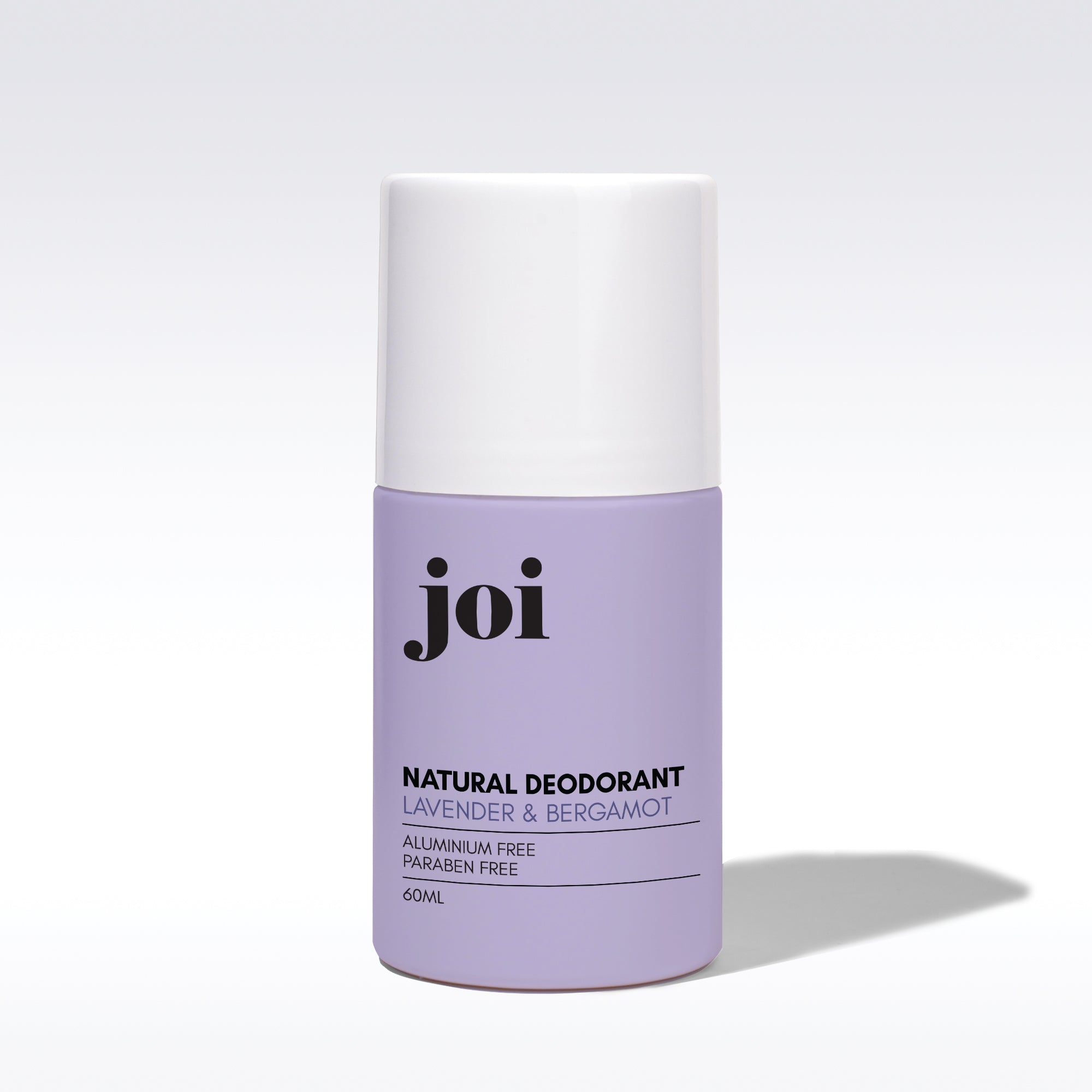 WHY CHOOSE US?
Natural & Safe

Joi brings innovative formulas using natural ingredients and thoughtful designs to all of our products.

Highly Effective

Joi products are made with targeting formulations rich in actives and provide results.
A little sticky but I can live with it
I like the scent. It rolls on quite easily. It's a little sticky but I can live with it. It's unfortunately quite light for its price. Not too much value for money delivered. More of a treat than a daily expense.
Lavender & Bergamot Natural Deodorant
Lavender & Bergamot Natural Deodorant
My girl used it and the scent still linger till the end of school. She really loved it alot
The deodorant is amazing!
Joi's page kept advertising at my social media. Did thought of trying but was skeptical at first. Many months ahead, the advertisement appeared again on my social media. It was a sign for me to try and take the chance. Bought 2 bottles Lavender and Mint. Tried the Lavender and it was the best thing ever! I experimented on myself during days I go to work and on weekends when I go hiking. I don't smell like rubbish thank god! Hahahah! The price is on the high side as it's organic. But totally worth trying and worth my every cent. Hopefully Joi will be my last brand to try on the right deodorant.
A gentle deodorant that smells great naturally.